Simply Best In Class – Five Year Quality Guarantee
At NABIC, as well as providing innovative safety solutions, we take pride in the quality and durability of our products. We also know that reliability and peace of mind matters to our customers, that's why we are proud to be the first and only safety valve manufacturer to introduce an exclusive 5 Year Warranty across all of our products.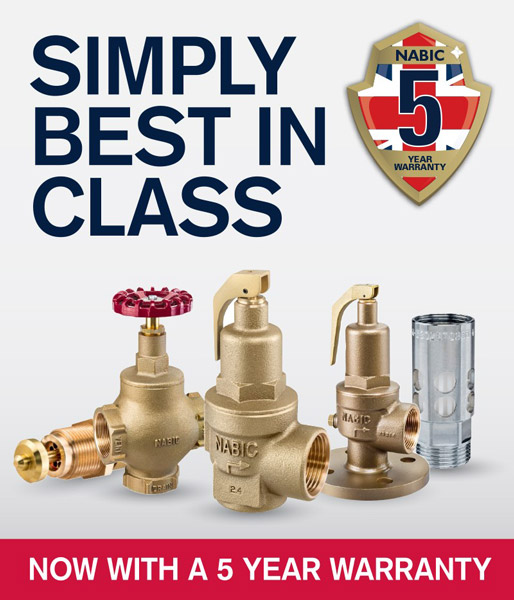 Safety Relief Valves
A range of safety relief valves available in high lift and standard variants primarily used for water, steam and air applications.
Pressure Relief Valve
Standard and high lift pressure relief valves for applications where pressure tightness is required on the discharge side of the valve.
Combined Pressure and Temperature Relief Valves
Designed for use on unvented hot water supply systems where protection is essential against excessive temperature and pressures.
Anti-Vacuum Valves
Utilised to protect drying cylinders, storage tanks from collapse due to an internal vacuum. Also used on steam systems, to assist condensate drainage and prevent suction of contents from vats.
Boiler System Valves
The NABIC range of valves comprise automatic air vents to remove trapped air from a sealed system and three way vents and cocks to allow for easy maintenance while the system is still running.
Pipe Interrupters
Pipe interrupters are safety devices designed to protect potable water systems. They prevent the backflow by automatic ventilation of the system and elimination of the vacuum.
Test Valves and Equipment
Test valves are utilised on steam boilers to provide a means for attaching a pressure gauge to allow for calibration under working conditions.
3 August 2016
Back to News