DESIGN
All NABIC safety valves were originally designed and tested in accordance with the requirements of BS 6759 and are now compliant with BS EN 1SO 4126-1:2013. Boilers and pressure vessels, designed to BS specifications, usually require the fitting of a safety valve which complies with BS EN 1SO 4126-1:2013. NABIC valves are also designed to meet the Pressure Equipment Directive (PED) 2014/68/EU and the Pressure Equipment (Safety) Regulations PE(S)R 2016 requirements.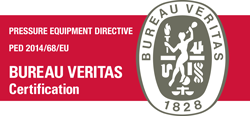 ---
PERFORMANCE
Comprehensive performance tests have been carried out on each range of NABIC valves. Discharge capacities are certified by the Associated Offices Technical Committee (AOTC).
---
ASSURANCE
Crane Building Services &Utilities operate a Quality Assurance system to ISO 9001, which ensures that the quality of production is continuously monitored. All safety valves are set, tested, stamped and sealed, prior to despatch. The Company is also approved to ISO 14001 having an effective environmental management policy in place

---
CERTIFICATION
Pressure Test Certificate and Letters of Conformity for individual valves can be supplied when requested.